As we get a chance to evaluate products in the Haunt, we will be highlighting the best of the bunch.  The links that follow take you directly to vendors we recommend. 

This page was last updated on: November 5, 2019
If you are permanently connected to the Internet with a broadband DSL or cable connection, you need a firewall.  Period. 

ZoneAlarm makes the most effective and easiest to use personal firewall available today and it is free for the basic version.

Paying for things is always difficult when buying internationally or from people you don't know.  The credit card companies have not kept pace with the market demand, and have not permitted card holder to card holder payments.

PayPal has come up with an elegant way of marrying email, credit cards, and bank accounts to permit low cost payments between anybody, any where.  It works.

Notebook computers are sold under a number of different brands with most manufacturing actually done by a handful of OEM's in Taiwan.  IBM continues to develop its own range of notebooks and the difference shows.

The IBM ThinkPad X series remains the best package for those who travel - light, reliable, loaded with features, great keyboard and good battery life.  Our current holding is the ThinkPad X21.Model 2662-64A


The second piece of network defense is the Network Address Translator (NAT)/router which protects your local computers from the Internet by hiding their true IP addresses.

Linksys makes a series of small, inexpensive products that do the job extremely well.  Picking one just depends on how many computers you have attached to your LAN.  At the Haunt we use the BEFSR81, which is a Cable/DSL Router with an 8 port Ethernet switch built in.  This single box delivers the complete LAN - firewall and switching.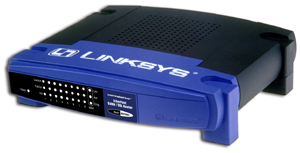 The web site at
http://www.crucial.com
is well designed and simple to use.  You can find the correct memory module by using the system locator, or go directly to the part if you know what you need.
Pricing is excellent, with a further discount for ordering on-line.  With the high level of counterfeiting and re-marking at the retail level, there is certainly an additional benefit of buying directly from the manufacturer.


Our latest purchases include 168-pin 256mb DIMMs for a Dell Dimension,

Combining a reliable on-line shopping experience with excellent products, Crucial Technologies is simply the best place to get memory of all kinds.


and a 128mb Compact Flash card. 

Shipping to Singapore takes 2-3 days.